What does it mean to rekey a lock? Losing the keys to your home or business does not always require locks to be replaced. Depending on the age of the lock, the condition of the lock, or if there is a need to up the security of the lock, rekeying the lock is often all that is needed. We cover more about this in our blog "Rekeying vs. Changing Locks."
How is the process of rekeying a lock done? Start with a view of a basic lock: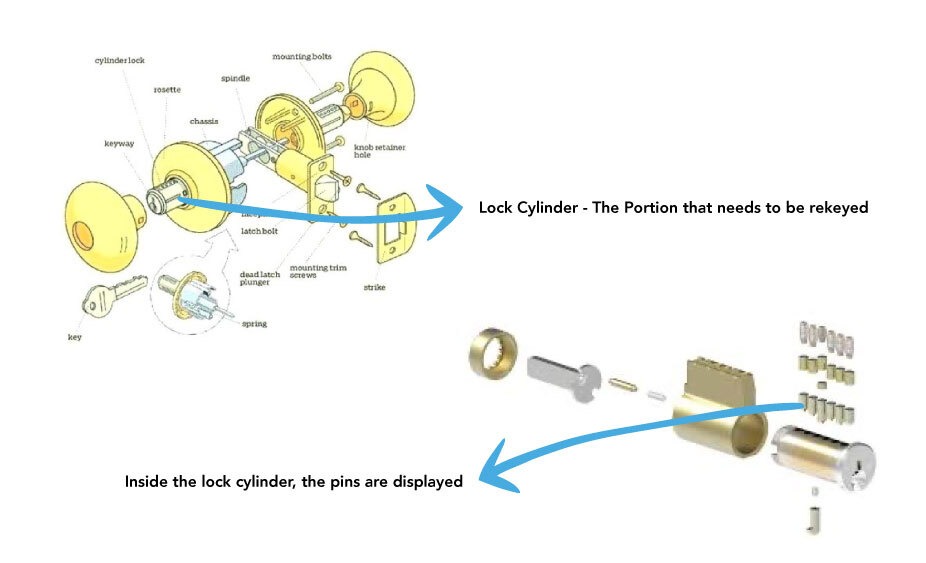 Rekeying a lock, in basic terms, is removing and realigning the cylinders in the lock and a new key for the lock can then be made. Seems simple enough? Don't be fooled. With the variety of locks available and other circumstances to consider, rekeying is best left to a professional locksmith.
Your Calgary experienced locksmith, Calgary Rekey Lockworks, brings the knowledge and understanding of the different types of locks available on the market. Working with a local locksmith company means you are working with an accredited company as required by the Alberta Government.
Trying to save money by doing the task yourself can mean you are giving up ohttps://calgaryrekeylockworks.com/rekeying-vs-changing-locks/n securing your home. Has the job been done correctly? What about new keys? Will unlawful entry now be easier? We go to the dentist for work on our teeth, why wouldn't you use a professional locksmith service to take care of rekeying, or possibly replacing locks in your home. Make sure the job is done right and your home is secure.
Calgary Rekey Lockworks – Our mission is to be the best and most trustworthy mobile locksmith company in Calgary! We are a mobile locksmith that provides high-quality emergency, residential, and commercial locksmith services in the Calgary area. Call us at (403) 202-7656.