---
Automotive Key-Cutting
Services in Calgary
We can cut keys on Domestic, Foreign and European vehicles with or without a VIN or special manufacturers code. Contact us today to and let us know the year, make & model of your vehicle and the services you are in need of.
Our Automotive Key-Cutting Services
Our Calgary Rekey Lockworks automotive locksmith is an official AMA contractor. Use your membership and save.
Standard Key-Cutting
Our expert locksmiths can immediately make a new key for you if you've lost your car keys. Whether you want to make a spare key or store one in case you lose the one you use every day, our automotive locksmiths provide outstanding customer care. We are available 24 hours a day if you have locked yourself out of your vehicle at an inconvenient hour and that's why we can always assist you. Our goal is to ensure that you have the best vehicle locksmith services at competitive rates, and we can provide a new key if you have lost your keys, forgotten where you kept them, or accidentally locked them in the car. If you've lost your keys, can't remember where you put them, or have locked yourself in the car, we can assist you in getting a new key so you can get in to your vehicle safely without breaking anything.
High Security Key Cutting
Does your vehicle incorporate a high-security key? As electronics and security features advance, vehicle keys are becoming increasingly sophisticated and technical. The high-security keys on your vehicle work perfectly to prevent unwanted individuals from accessing your vehicle. However, if you lose the key, you're in big trouble. Specialty gadgets include radar, laser, and other features in high-security keys to keep your vehicle safe. While electronic keys are less fragile than traditional metallic keys and are able to operate after getting wet and falling from a height, they are more fragile and more costly to replace. When you lose your key or it becomes damaged, we have a range of high-security keys to provide. You can trust us to deliver regardless of what you need. Whether you need us to make a new key, program an old one that has stopped responding, or create a new one altogether, we can handle it. We can cut new keys for your vehicle. Call us to order a new key for your car.
Transponder/Smart Keys
Calgary ReKey Lockworks provides a wide variety of transponder keys to replace your lost or broken smart key. Whether you own a domestic or foreign vehicle, we can replace your keys in Calgary ReKey Lockworks in a few minutes. At Calgary ReKey Lockworks, we offer key replacements for both domestic and foreign vehicles. If your old keys are worn out, we can create new keys to manufacturer specifications using the broken pieces. We can replace your vehicle's keys in the Calgary area quickly, efficiently, and affordably without having to tow your car or truck. If you've lost or broken your key, or if it's a metal key or a transponder key, our vehicle locksmiths can provide a fast, efficient, and affordable key replacement. You don't have to tow your car because we will come to you with our specialized equipment. We accomplish the job without damaging or breaking anything thanks to our cutting-edge locksmith tools and our large industry experience.
What automobile brands do we work with?
Audi® - Acura® - BMW® - Buick® - Chrysler® - Dodge® - Ford® - GM® - Honda® - Hummer® - Hyundai® - Infiniti® - Isuzu® - Jaguar® - Kia® - Lexus® - Mazda® - Mercedes® - Nissan® - Oldsmobile® - Pontiac® - Porsche® - Saab® - Saturn® - Suzuki® - Toyota® - VW®
We are certified to work with all these automotive manufacturers as well as almost every brand of Motorcycle.
Standard Mobile Key-Cutting Machine
To use the key machine, an original key is inserted into the vice that is near the guide and a key blank is inserted in the vice near the cutting wheel. Using the alignment device (usually two bars that are connected to ensure they always remain the same distance apart) the keys are horizontally aligned in the vices to be in precisely the same place in relation to the cutting wheel and guide. The motor is energized and spins the cutting wheel. As the user traces the guide along the cuts of the original key, the key blank is dragged along the cutting wheel, duplicating the cuts on the original. When all the cuts have been cleanly made the process is complete.
After the key is cut, burrs are removed- usually by buffing the key with a rotary wire brush either mounted on the key machine itself or on a grinding machine.
(Originally written by Dengarden.com)
---
Standard Mobile Machine Key-Cutting
---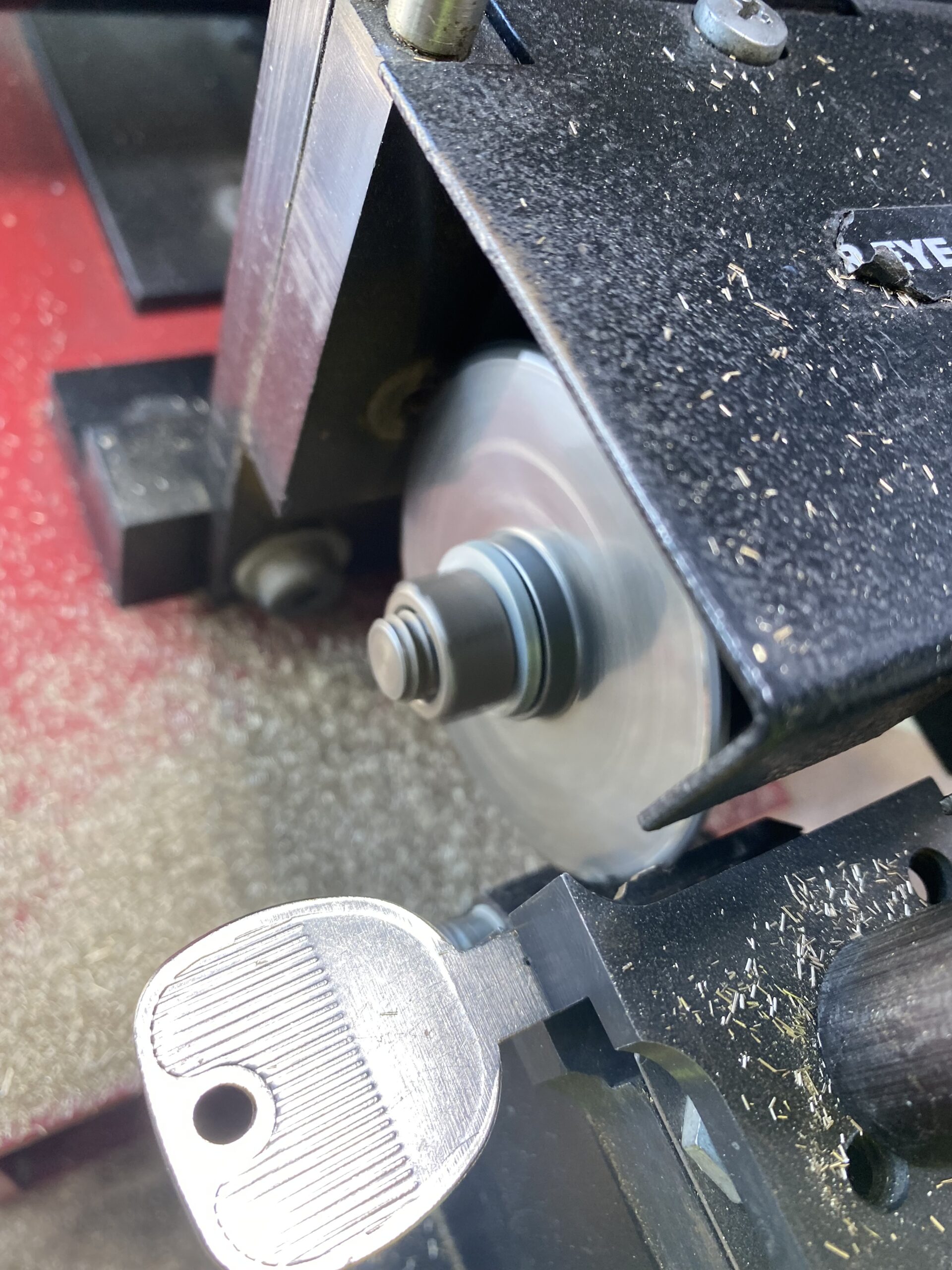 ---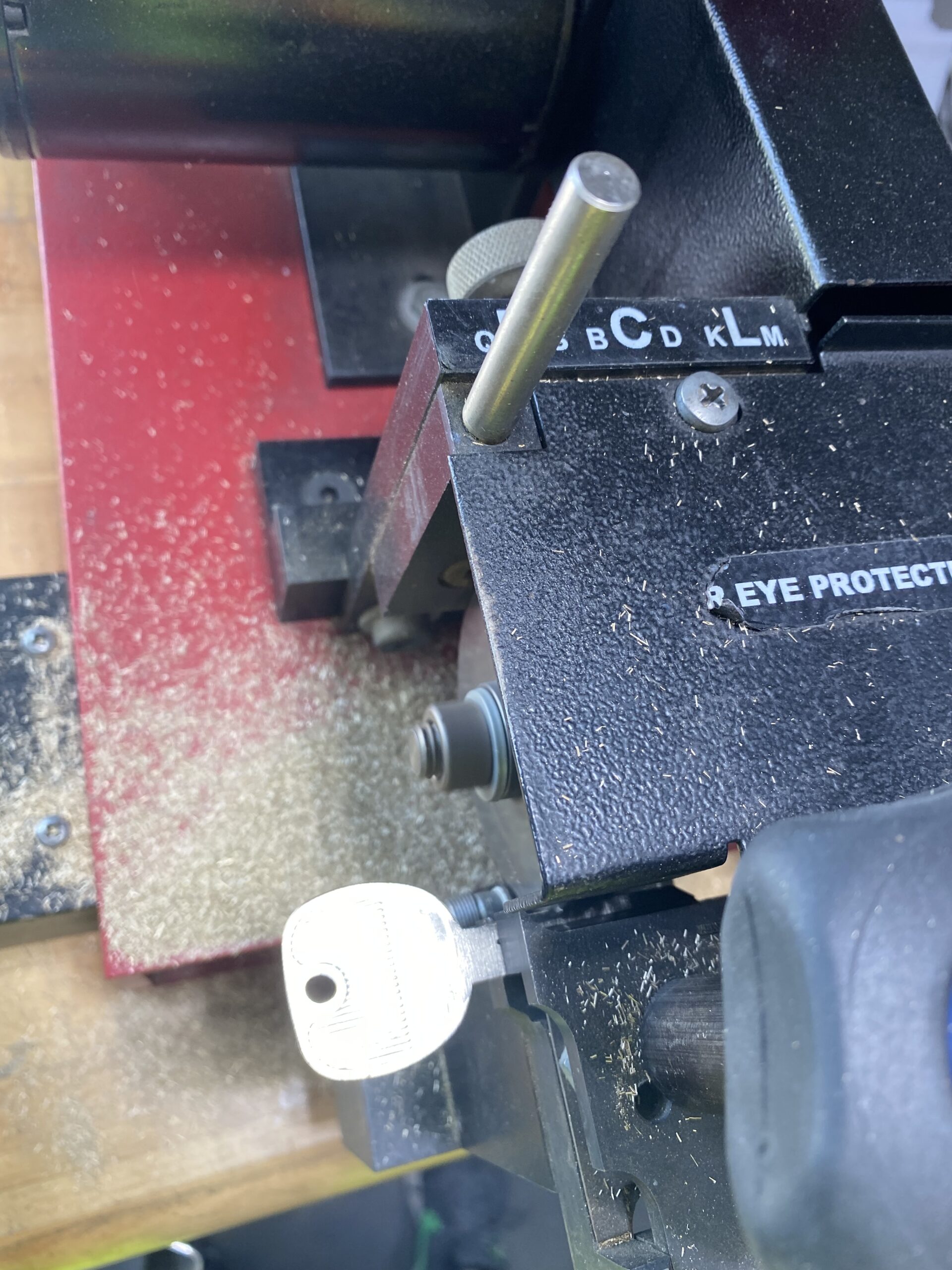 ---
Precision Mobile Machine Key-Cutting
---
---
Specialize in making automotive keys
Theft recovery: damaged ignition or door locks
Program remote start, high security, push button ignition
Repair locked-up or jammed ignitions
Create keys for changed ignition or door locks
Steering club removals
Trunk open-ups
Immobilizer re-flash
Motorcycle keys
Vats keys
Tractor / Trailers
Please contact us for pricing – (403) 477-5625
We will inform you of the full cost up front before we come, so you are prepared and there are no surprises.
After hours service has price increases after 5 pm and midnight.
Price discounts offered for students and seniors with valid ID.