Whether you lost your keys, locked them inside the house or car, or maybe the key is so old it just doesn't open the lock anymore… your best option is to contact a professional Locksmith and save your sanity!
With all the things a person has to keep stored in their memory for one day, it's no wonder keys end up being one of the most angering things to misplace. How many times have you jumped into your vehicle started it, then jumped out to grab something in the house or something you dropped outside (or even left a full coffee cup on the top of your car) and had the door then close and be locked? This can happen in cars, trucks, buses, and motorhomes. And then there is the lost or broken key for a motorcycle, snowmobile, lawnmower, ATV – even a bicycle lock can fall victim to a misplaced key.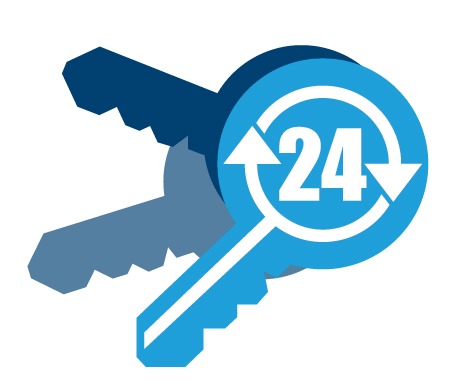 What about lost or broken keys for the front door of your home, garage, office, warehouse, and even your shed? Maybe you need a rekey or a completely new lock because you are not sure how many people actually have keys to your property.
The professionals at Calgary Rekey Lockworks have decades of experience in all forms of vehicle, home, and business-related locksmithing needs. The home and business side of the business work in everything from lock repairs/replacements to rekeys as well as security devices and safes.
The vehicle locksmith department is an official AMA locksmith and can provide discounts based on the type of AMA member account you have (you will need your card number to get these discounts).
All technicians have a decal van with tools, blank keys, and machinery inside to provide everything you need to fix your problem. They are Better Business Bureau rated at "A+". Each technician has their own Alberta Locksmith license and not simply one that several unlicensed "techs" share.
Lost Your Keys? Contact Us
Home/Office/Warehouse security: (403) 202-7656
Vehicle security: (403) 477-5625