"Home", is your place of refuge. It's your place to "be safe". You have locks on the door to keep unwanted people out… so you are protected inside with this Home Security. The job of those locks is to keep you and your loved ones safe and protected; especially at night when you sleep.
No less important than those locks… are the KEYS you use to lock and unlock your doors to keep yourself and your family safe. Keys are one of those things that most people don't even think about. Yet you RELY on your key when you get home to get you back inside. Many people don't think about what they would do if, somehow, they lost their keys; or if they were stolen. That is when panic sets in.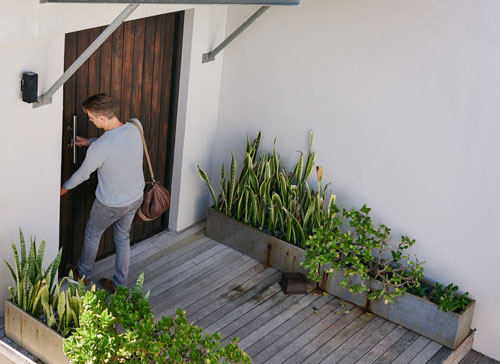 "Oh no! Now what?"
Well. Then get out your spare key.
What's that? You don't have a spare key?
OK. Then call the neighbour or trusted friend to who you gave a key, "just in case."
Oh. You didn't do that?
Well, go get the key you hid in a clever place on your property and use it to open the door.
Really? You didn't do that either.
All that is left to do is to CALL THE LOCKSMITH.
Home Security
If you aren't locked out at this moment in time as you read this; write down the phone number on this website and keep it on "speed dial" on your smartphone (403) 202-7656. We are LICENCED locksmiths in Alberta and members of BBB. We do our best to assist our clients in their time of need. That is to say, we'll help you get into your house or vehicle and the pricing will always be fair and appropriate.
If you don't call Calgary Rekey Lockworks, look up Licensed locksmiths on the BBB website or on Google Verified.
Also, be aware: You have the right to ask the person who arrives at your door to show you his Locksmith License. He MUST have it with him by law. And he MUST show it to you. If he doesn't have it, or "my boss has it," or he becomes rude or indignant, he's NOT a licensed locksmith. Send him away. If he's asking an outrageous amount of money, like $300, $400 or $500. Send him away.
This all sounds scary and outrageous. Yes. It is. The times are not as innocent as they were in the 1950s and 1960s.
What is the solution? The simplest solution is to PREPARE YOUR HOME SECURITY AHEAD OF TIME:
1. HAVE AT LEAST ONE SPARE KEY CONVENIENTLY PLACED SO YOU ALWAYS HAVE A WAY TO GET BACK INTO YOUR HOME (CARRY A SECOND HOUSE KEY ON YOU. FOR INSTANCE, ON A CHAIN AROUND YOUR NECK), or

2. KEEP A KEY WITH A TRUSTED NEIGHBOUR OR FRIEND, or

3. HIDE A KEY IN A CLEVER PLACE ON YOUR PROPERTY (MAKE SURE IT DOESN'T GET STUCK IN ICE), or

4. INSTALL A RELIABLE KEYPAD ON YOUR DOOR SO A KEY ISN'T ALWAYS NECESSARY, or

5. HAVE THE CONTACT NUMBER FOR A REPUTABLE LOCKSMITH YOU KNOW IS TRUSTWORTHY.
Doing one or more of these simple steps to prepare for "just in case" moments will save you worry AND the cost of an emergency visit from a locksmith. We often tell our customers that locksmiths are like lawyers and dentists: "You don't like using our services, but, IT'S GOOD TO KNOW WHO YOU CAN TRUST."