Locksmith Services: What to Expect From a Car Ignition Lockout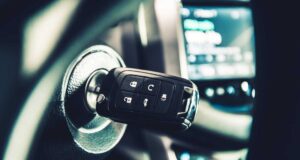 Car keys can be frustrating. Sometimes they just don't want to unlock themselves, but unlocking them can be even more frustrating. The problem could be anything from a loose keychain to a jammed lock or a broken key, but the end result is always the same: you need help. Luckily for you, locksmiths are here to help and with the right tools and trained professionals, you won't have to worry about locking yourself out again anytime soon. To unlock that frustration and get back in your car again as quickly as possible, let us explain what you can expect from our car ignition lockouts.
What is an Ignition Lockout?
An ignition lockout is the condition of your key failing to start the engine of your car. There are a few possible reasons why this may happen. The most common reason is that the key is broken or bent. Another common reason is that the key is stuck in the ignition. If your key is broken, bent or stuck in the ignition, then your ignition lock can be accessed by anyone with a key. Since there are many different types of cars, it is not possible to tell which key will work in a specific car. Some cars have an electronic key system. In this case, it is the same for all other keys, the keyless ignition system will work the same way. But some cars have a more complex key system, with a code that needs to be entered for it to work.
What to Expect From a Car Ignition Repair
In a lock-out situation, you will usually call or visit a locksmith who will try to open your car with your spare key or use another proper means. Once they get inside the car they will attempt to use the broken or bent key to turn the ignition to make sure that portion of the ignition still works. If this does not work, they will attempt to remove the key or reset the computer to remove the condition – depending on the type or brand of vehicle, a certified locksmith knows the proper way to do this without damaging the ignition or the area surrounding it. If the key was in fact broken inside the ignition, there may be additional steps needed to remove it. Once removed, the locksmith can cut a new key on site.
Emergency locksmith services that are provided by Calgary Rekey Lockworks
The largest reason why people get locked out is due to car emergencies. Whether it's a broken key or a stuck door, you might not have time to visit a local locksmith. In such cases, you should immediately call a locksmith for emergency assistance. Emergency locksmith services provide you with the best and quickest assistance possible, even in the middle of the night or on holidays. When you're locked out, you'll be glad you called an emergency locksmith. You'll be back in your car and on your way again in no time. You're probably feeling frustrated and embarrassed about getting locked out of your car. A locksmith in an emergency situation can help you get back into your car without any further hassle.
Why is the ignition lock so important?
If your car key is not working properly, then you will be unable to open the trunk or the hood. You may also be unable to start the car. The most important reason why you want to unlock your car with the ignition lock is that you want to get inside the car. Before you call a locksmith, make sure you unlock your car with the ignition lock so you can get inside. The engine will start with just a turn of the key, so you'll be able to get to a car wash, get some food or anything else you need.
Other cars that can be locked out with an ignition lockout
You may be surprised to learn that many vehicles can be locked out with an ignition lockout, including some models from GM, Ford and Toyota. The most common cars with an ignition lockout, however, are older model cars and SUVs that have been sitting for a long time. If you don't drive a particularly old car or an SUV, you may not know that your vehicle can be locked out with an ignition lockout. That's because these types of vehicles are commonly parked at garages or in driveways.
Don't expect immediate results
Ignition lockout is one of the fastest interventions a locksmith can make. You can expect a fix in anywhere from 15 minutes to an hour or more.
The bottom line on Car Ignition Repair
If you find yourself locked out of your car again, don't panic. Get in touch with Calgary Rekey Lockworks as soon as possible. The automotive locksmith will be able to unlock your car and provide you with a new key.