In Alberta, businesses that offer security, investigation, locksmith, and automotive lock bypass services, or training for these jobs, must be properly licensed.
Licenses are issued under the Security Services and Investigators Act by the Alberta Justice and Solicitor General.
Businesses are responsible for ensuring they comply with Security Programs policies by:
creating internal policies
ensuring uniform and vehicle appearances
keeping records
reporting

incidents
new hires
terminations
Is your Locksmith properly licensed?
Use the Business Query and Licence Status search to:
generate a list of licensed businesses
check if an individual is licensed
Properly Licenced
Licenses are available for 1, 2, or 3 years.
Licensing requirements
All businesses must:
be a registered Canadian business
have an address in Alberta
be licensed or permitted by their city or municipality (if applicable)
have at least $1 million in liability insurance
Calgary ReKey Locksmiths
We are properly licensed as registered Locksmiths listed for the province of Alberta and are able to present the proper identification to prove the proper licensing. Ask to see a lock "PICK" license and make sure the name and photo match the person stating they are a locksmith and that the Expiry Date has not been exceeded (the license must be renewed every one, two, or three years). To see the provincial requirements to be designated a "Professional Locksmith" you can see that information here – Security Investigation Locksmith Business Resources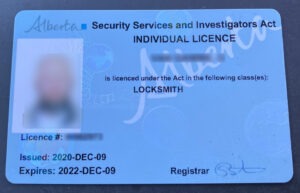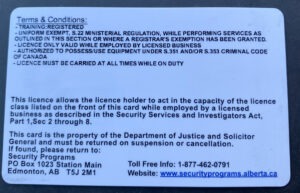 We specialize in:
Vehicle Lockout
Building Lockout
Copy Vehicle Key
Copy Building Keys
Re-key Lock
Install Lock
Repair Lock
New key FOB
Stuck key removal
Calgary Rekey Lockworks – Our mission is to be the best and most trustworthy mobile locksmith company in Calgary! We are a mobile locksmith that provides high-quality emergency, residential, commercial, and properly licensed locksmith services in the Calgary area.
For Residential or Commercial needs, call us at (403) 202-7656
For Automotive, RV, or Motorcycle needs, call (403) 477-5625